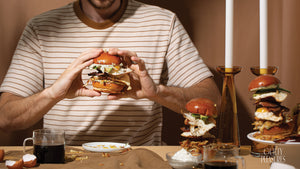 we love food, and everything that goes with it!
welcome to our table
At The Kitch, we're obsessed with helping people celebrate life by creating unforgettable moments in the kitchen and around the table.

The Kitch was created by a small group of friends in 2020, a year that reminded us all that life is meant to be fully lived and enjoyed.

We realized the most memorable moments of our lives together were connected by food. So we set out to create recipes together (which eventually turned into cookbooks), that we would actually want in our kitchen--these cookbooks eventually became rooted in a belief in recipes that are unique and inspire cooks of all ages and skill levels.

And so, The Kitch was born.

The Kitch is more than a company or books, though. It's about creating unforgettable moments around the table or in the kitchen through highly curated recipes and under-the radar chefs. We're here to lean into the simple joys of a shared meal or a beautifully crafted drink. We're here to explore food and want to bring as many people along with us as we can. So, why don't you join us on adventures of the palate with your friends, family or sometimes even a random stranger... all in the name of creating some moments that will last a lifetime.